Haarverlenging is niet meer weg te denken!
Elke vrouw met lang haar droomt van een langere, vollere bos met meer volume. Maar vooral de dames met dun futloos haar zijn blij met de trend van de haarverlenging. Of je nu kiest voor extensions of een flip-in hair, je zult altijd blij zijn met het resultaat. Wil je graag dat het haar vast zit in je eigen haar, of wil je het er 's avonds juist uit kunnen halen? Alles is mogelijk!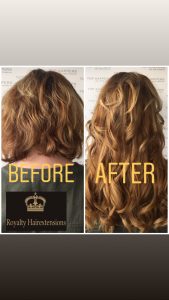 Voor meer informatie kunt u telefonisch contact met ons opnemen.